Paint Warfare Remastered
Paint Warfare Build 12 Update!
---

Grenades and remastered particles! Grenades are now available in the game, and can be used with the 'G' key! The bazooka now has a brand new set of particles, to make every explosion look stunning.
Remastered weapons! Some weapons like the Barrett and ACR needed fixing and had some unfinished animations, so I re-made them to make them stunning again!
New points system! Made a new point system. Here's how it works:

Suicides no longer awards you points and to balance grenades, if you purposely or accidentally suicide with grenades, you loose 15 points
Kills award a further 50 points of top of your current points.
If a pellet does more than 100 damage, you are awarded 40 points. (Most guns may have multiple pellets)
If a pellet does less than 100 damage, you are awarded half the damage in points

Winning! If a player reaches 5000 points in a dunes match, they will be declared the winner and all points will be reset.
Cool lighting effects in Heist! Heist now looks nicer due to some new effects in the windows!
Brand spanking new UI! Refreshed UI with a rounded theme and effects when you hover over of click a button
Death messages. Some of my favourite death messages include:

"There you lay, swimming in a world pain."
"(TIP: Don't die!)"
"Your imbecilic adventuring skills led you to such an untimely death."
"You deserved that"

Full spectator! You have access to a full spectator cam with no UI in the spawn screen!
Updates to the armoury! Main changes:

Replaced SCAR withACR
Forward / back arrows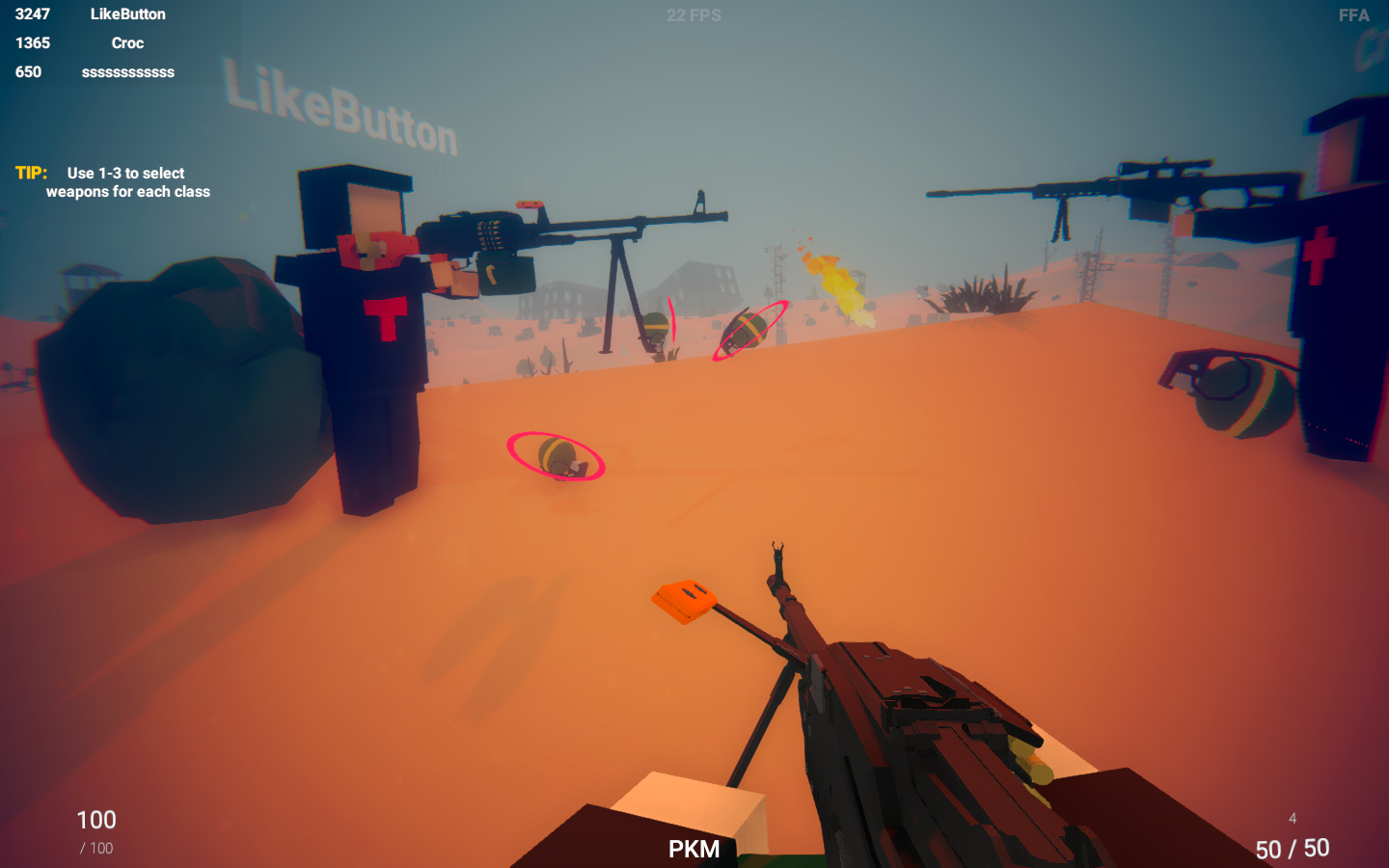 Paint Warfare is now croc approved.
Files
Paint Warfare Build 12 Windows 64.zip
57 MB
May 04, 2019
Paint Warfare Build 12 Windows 32.zip
54 MB
May 04, 2019
Paint Warfare Build 12 MacOS.zip
60 MB
May 04, 2019
Paint Warfare Build 12 Linux.zip
64 MB
May 04, 2019
Get Paint Warfare Remastered